About Okinawan Karate Club of Dallas
This Okinawan Karate Club of Dallas has been in the Dallas area since 1984. We teach traditional Okinawan Shorin Ryu Karate as taught by the late Eizo Shimabukuro O'Sensei and Okinawan Shudokan Karate as taught by the late Shibucho Walter Todd.  Okinawan weapons (kobudo) are taught to advanced students.  OKCD also offers training in Arnis and Toei Jujutsu.   
We have separate adult and youth classes. We have no contracts or testing fees and we have low monthly dues.  
There are monthly dues for all youth and adult karate classes.  
If a student attends a class any part of that month, the student pays his/her entire monthly dues. 
If a student is an active Club member, the student must pay his/her monthly dues.  
30 day written notice to cancel membership
All checks are made payable to the order of Okinawan Karate Club of Dallas, Inc.
Youth must be 7 years old to start to training
You must be 16 years old to train in the adult class
No contracts
Dues cover all applicable classes
Family/household discounts
Discounts for quarterly pre-payments
Discounts for electronic funds payment
One-time student uniform fee of $15 added to the first month's dues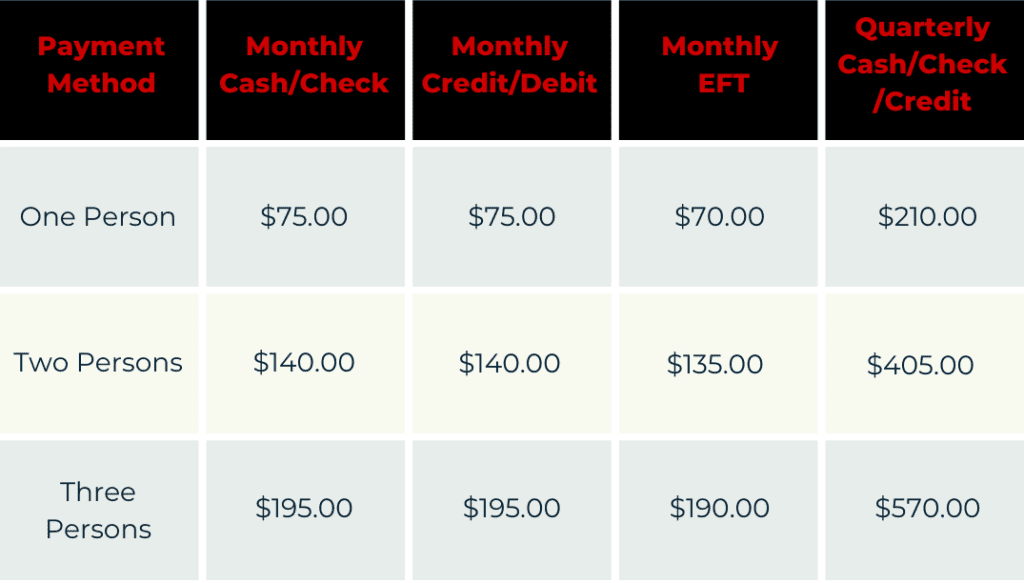 *More than 3 persons add $60.00 per person.

The Okinawan Karate Club of Dallas is a traditional martial arts school that practices Okinawan Shorin Ryu karate-do as taught by Eizo Shimabukuro, Grandmaster. The vast majority of yudansha (black belts) in the school have been promoted by Shimabukuro O'Sensei himself.
We also practice Shudokan karate-do as taught by the late Walter Todd, United States Shibucho for the late Kanken Toyama.
We have also added the study of Toei Jujutsu and Arnis to our curriculum.
The Okinawan Karate Club of Dallas, Inc. started in 1984 by Ilene J. Smoger Sensei with the assistance of Sean Deuby Sensei. The two karateka, then new shodans, met each other two years earlier at an apartment complex in North Dallas when Smoger Sensei saw Deuby Sensei's  "Original Okinawa Karate" t-shirt while passing him in the laundry room. Since Okinawan karateka are always a minority and often find themselves without a dojo or training partner when relocating to a new town, they immediately struck up a conversation. (As in most martial arts, the conversation sounded like a discussion between a pair of geneologists: "Who was your teacher? Sensei X, who studied with Q and R. Q studied with A for 40 years until his death." "Hey, my teacher's teacher also studied with A for many years. How do you do Passai Sho?")
It turns out they both had just come down from college in Michigan, where they had studied very similar Okinawan Shorin Ryu styles in dojos 60 miles apart. Smoger Sensei was from Shimabukuro O'Sensei's school (a student of Barbara Christensen Sensei), and Deuby Sensei studied with Iha Seikichi Sensei of  Miyahira Katsuya's Shidokan school. 
For the next two years they practiced at The Hockaday School in Dallas, where Smoger Sensei was the Chairperson of Health and Physical Education. In 1984, Smoger Sensei taught a self-defense class at Brookhaven Community College in Dallas and invited the class to continue their training in the small gymnasium at Hockaday in the evenings. Those were the first classes of the OKCD, of which Sharon Knox Deuby was a student and Brian McCauley (the Sempai of the dojo). We stayed there until 1988.
In the intervening years, the OKCD held classes in two dance studios and an aerobics studio. After 16 years as a tenant in other people's spaces,  OKCD finally had a nice space of its own in Farmers Branch, Texas, where we stayed from 1998-2009.  As of December, 2009, we moved to North Dallas, with our own space that is about twice the size of our Farmers Branch dojo. We have a fabulous space and could not be happier in our new location.
Smoger Sensei was the Head Instructor from 1984 to 2019 where she conferred over 80 yudansha.  In 2019  Donna Mullet Renshi became the Head Instructor and Cody Rogers Sensei and Chris Sopithakul Sensei became the Co-Executives of the dojo.  Additionally there are several sister dojos in Atlanta, Latana, Frisco, and San Francisco.